Very quick & easy to make
If you are pushed for time – and want a very quick & easy meal then vegan basil pesto will be ideal.
Why vegan basil pesto without nuts ?
Fresh basil pesto is a great way to quickly make a meal. However most basil pesto recipes will use cheese as well as pine nuts.
In my family my daughter is gluten and lactose intolerant, and my son is intolerant to nuts – hence a vegan basil pesto without nuts.
Key Vegan basil pesto ingredients
There are 3 ingredients that will make all the difference:
Basil type – Genovese, Holy, Cinnamon, etc.
Garlic used – Hard or Soft
Sunflower seeds
(More details lower down the page)
Fresh basil pesto is great when added to any type of pasta or on top of bread. For example even if you only combine it with fusilli and a bit of garlic bread you will have a great meal everyone will love.
How to make fresh vegan basil pesto
You will need the following
Ingredients
1 cup Fresh Genovese basil leaves.
2 cloves Garlic.
50 gram Sunflower seeds
2 tbsp Fresh lemon juice
1/3 cup Extra virgin olive oil
1/2 teaspoon sea salt
Equipment
Food processor or
Pestle and mortar
Chef's knife
I like using a food processor as it's quick & easy. Although a pestle and mortar is the authentic way to make it.
Instructions
Wash and chop the basil leaves
Chop the garlic (and optionally crush it)
Optionally – slightly cook the sunflower seeds in a frying pan until golden – but it's not essential
Put the basil, garlic, sunflower seeds and salt into the bowl of the food processor
Slowly add the olive oil – about 1 spoon at a time until your pesto gets a nice thick liquid consistency
You might want to add more salt & pepper to taste.
Pesto, or similar pastes, have a very long history and been eating throughout historical times. Possibly because lots of people like a 'quick & easy' meal.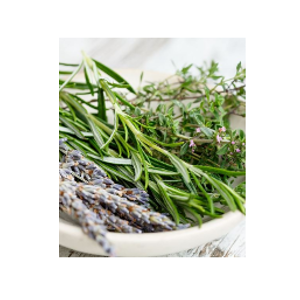 Pesto Pasta with little hot dogs?
Yes, you can use pesto on a topping on bread, as a dip, etc. But I've always used it blended with pasta. Simply cook the pasta, mix it in and your meal is ready.
OK, it's not vegan but you don't have to stop there.
For example in one of my favourite tv series (The Big Bang theory) Sheldon Cooper's favourite meal is spaghetti with cut up little hot dogs. And yes spaghetti is great but why not try pesto pasta with little hot dogs (or even chopped up Frankfurters)?
Making pesto is quick & easy, but the difficulty is that it will only last about 1 week when kept chilled.
I've not tried freezing homemade pesto yet as it's so easy to make.
3 vegan fresh pesto flavour tips
As you can see from above homemade pesto is quick & easy to make.
But if you want to experiment a bit why not try a few different ingredients:
Tip 1 – Change the Basil
Most people will tend to use the basil bought in shops, or grown at home.
Basil is great to grow at home, as it's very easy to grow and is ready very quickly. But there are lots of different types you can use.
For example:
All of these are easy to grow – follow the links for details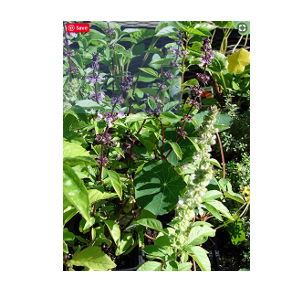 Tip 2 – Try different Garlic types
Did you know there are over 600 different garlic types? Each with their own distinct texture and flavour.
If you look at some of the different homemade pesto recipes, you might notice the different amount of garlic recommended. Yes, personal taste makes a difference but in addition some garlics are simply much more powerful and you will need less.
For more details have a look at the garlic type information page
Tip 3 – Add a few other herbs
If you are growing more fresh herbs at home then it is well worth experimenting a bit and adding a few other herbs.
For example Coriander or Mint will add a very interesting flavour.
Vegan basil pesto recipe
Fresh vegan basil pesto without nuts is maybe one of the easiest fresh ingredients to make.
However both the type of garlic & basil you use will make a real difference to the taste.
It's ideal for a quick and easy meal – just add to pasta & maybe other ingredients and it's ready. Homemade pesto does taste so much better than the ones sold in little pots and well worth making.
Equipment
Food processor or

Pestle and mortar

Chef Knife
Ingredients
1

cup

Fresh basil leaves Genovese basil is the authentic Italian basil – but it's well worth experimenting with other basil types for different flavours

2

cloves

Garlic

If you use shop garlic you might need 2 to 3 cloves. If you use a homegrown garlic (like Purple Stripe) you might only need 0.5 to 1 cloves

50

gram

Sunflower seeds

2

tbsp

Lemon Juice

1/3

cup

Extra virgin olive oil

1/2

tsp

Sea salt
Instructions
Get all the ingredients ready

Pour ingredients into blender
Video
Notes
You can use either a food processor or pestle & mortar to make pesto – however I've found the ingredients you use will make all the difference.
Especially the different types of basil are great for experimenting with – as they will all add a slightly different flavour to your pesto
Nutrition
Serving:
4
servings
|
Calories:
97
kcal
|
Carbohydrates:
0.7
g
|
Protein:
8
g
|
Fat:
8.7
g
|
Saturated Fat:
1.5
g
|
Sugar:
0.2
g
Made this recipe ?
Would be great if you could click on a star above right (below the main picture) to rate it
More information
Hopefully the homemade pesto recipe might inspire you to grow your own fresh basil at home.
When you are cooking fresh herbs tend to make a real difference to the results. Herbs are really easy to grow at home and many of them grow really fast.
To grow your own basil
Basil is very easy to grow your own at home in your kitchen, dining room, etc. For the best & fastest results all you will need are seeds, growing system and some growing lights. There is detailed description at how to grow basil indoors