How to grow basil indoors
Fresh basil will make a real difference to your recipes.
The advantage of growing your own basil is that:
Fresh basil tastes much better than dried or shop bought
You can grow types not available in shops
Instantly available when you need it
Below you will find step by step advice on how to grow basil indoors.
There is more information on the different types of basil further down the page.
How to grow basil indoors
I tend to grow basil from seed, because it's cheaper then buying plug plants and the seeds are available all year round.
Step 1 – Sow and germinate your basil seeds
Yes, you can simply sow your basil seeds in a bit of soil and wait for them to germinate.
However you can get much better results by using 2 easy options:
1a. Soak the seeds in water first
A very easy option is to soak your seeds in water before sowing them.
All you do is to simply add the seeds to a bowl of water and soak them in water for 2 to 4 hoiurs.
Then sprinkle them on top of soil. Cover the seeds with a thin layer of soil and let them germinate.
1b. Use a heat mat
Yes, soaking seeds in water will help them get started quickly.
But in addition if you put the seed tray on top of a heat mat this will help you get even faster results.
Does it work ?
The video below shows the difference a heat mat makes in just 1 week
For more details have a look at the heat mat I used
Step 2 – Transplant the plants onto pots
When the basil plants have at least 3 leaves transplant them into larger pots.
Ideally when transplanting leave 38 cm between plants
Because I don't have much space I will put 2 or 3 plants in a pot – like the red rubin basil pictured on the right. Maybe a bit squashed but they do tend to grow nicely.
However there are 2 important items to focus on.
2a. Light – Use natural light or a grow lamp ?
Basil loves sunlight – if you have a south facing window then putting the pot will be easy.
On the other hand a grow lamp will always get better results – because you don't have to hope for sunshine (even in winter months).
For example I use grow light bars (pictured on the right) to grow basil, tarragon, rosemary, etc in a north facing kitchen.
2b. Warmth
Linked to this make sure your basil is kept warm as it hates cold draughts. That way it will continue to grow.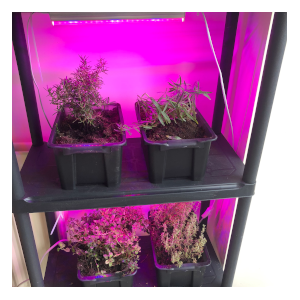 How to start to grow basil indoors
Basil seed are available to buy online – follow the links below for more details