Basil Varieties and Cooking uses
Basil is a key ingredient in many recipes, but the different varieties will have completely different flavours.
Which is why it's very important to select the right basil type for the types of foods you would like to prepare.
If you want to grow basil you can use:
Soil
Hydroponics
Aquaponics.
.
In this article we will cover
How to grow basil indoors
Which type & why
How to use basil
.
How to grow basil indoors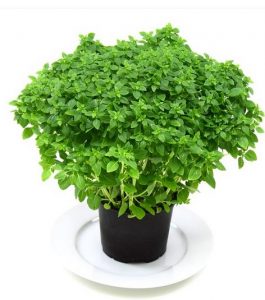 Growing Basil in pots using soil
Basil is ideally suited for planting outside in a pot on a balcony or terrace or inside on a sunny windowsill (or using lighting)
It loves warm very sunny conditions and hates cold draughts. If you want to grow basil in soil then:
Sow thinly into soil at a depth of 6mm
Will germinate in 12 to 40 days
Thin the seedlings or transplant leaving 38 cm between plants
.
Growing Basil using Hydroponics or Aquaponics
Basil is one of the most popular herbs to grow usning hydroponics – as it will be ready to be harvested quicker than planted in soil.
But in addition it is ideal for aquaponics – especially because it loves nitrogen. In addition, whether using hydroponics or aquaponics you will be able to grow it all year around – providing you with fresh herhs when you want it.
Three Ways to Grow Basil at home
A very easy way to grow Herbs & Veg in the Kitchen
[CLICK TO READ MORE]
A fun and easy way to test aquaponics at home.
[CLICK TO READ MORE]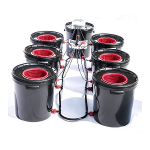 Will fit on a balcony, garden, greenhouse, etc.
[CLICK TO READ MORE]
.
Which Basil Type & Why
There are many, many different types of basil. But the key ones to consider are:
Sweet or Genovese basil,
Cinnamon basil
Thai basil
Lemon basil
Tulasi or Holy Basil
.
Taking them in turn:
Sweet or Genovese Basil
Cooking Mediterranean or European Dishes ? For example Italian, French or Greek.
If you buy basil in a shop in the UK then you will most likely get either sweet or genovese basil. However, even these 2 European varieties are different. Where sweet basil has a flavor tasting a bit like a blend of licorice and cloves with a hint of mint. Whereas Genovese basil is a stronger flavour preferred by chefs – a bit like a combination of aniseed and cloves.
So if your recipes require a subtle flavour grow sweet basil at home. On the other hand if you prefer a stronger flavour (ideal for either Italian or dishes containing tomatoes) grow genovese basil at home.
Typical recipes:
.
Cinnamon or Mexican Basil
Cooking Central American Dishes? -For example Mexican or South American
Cinnamon basil, is also known as Mexican spice basil, has a spicy, fragrant aroma and flavor. It can be used not only in pastas & salads but also in cookies, pies and even ice cream.
Typical recipes:
.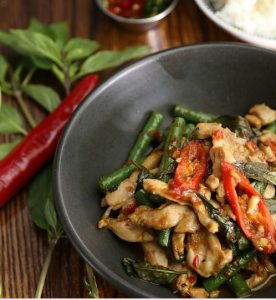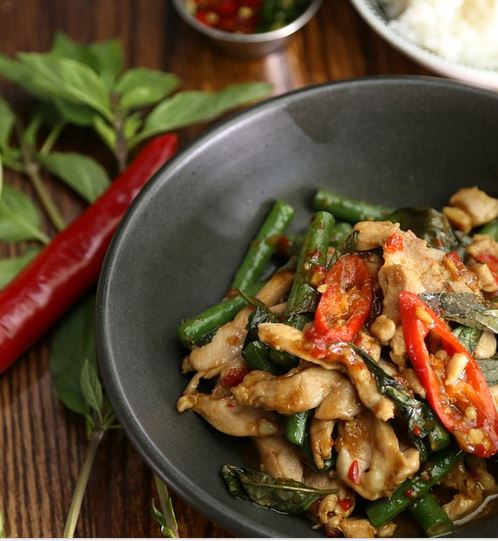 Thai Basil
Cooking Asian Dishes ? For example Thai, Laos or Vietnamese…
Then Thai Basil has to be a must – in addition Thai basil is ideal to grow indoors, because as a tropical plant it needs warm temperatures and is not frost resistant.
The reason it's so good for asian dishes is that it has the same flavours as standard basil but in addition has a strong licorice and anise flavour that gives foods like curries and soups a unique aroma.
Typical recipes:
.
Lemon Basil
Cooking South Asian or North East African Dishes ? For example Indonesian, Philippine or Arabic…
Then the unique flavour of lemon basil is a must. In addition a key benefit is that it can be used in many different ways – for example eaten raw with a salad, used to season many cooked dishes or even used in sweet desserts.
Typical recipes:
Manipuri Lemon Basil Fritters (See video below)
.
.
Tulasi or Holy Basil
Cooking spicy Thai dishes?
Then you should grow Red Holy Basil. Although sometimes confused with Thai Basil (see above) Holy Basil is completely different and has such a peppery flavour that it is often referred to as 'hot basil'.
Please note that white holy basil is again slightly different, and often used for seafood dishes.
Typical recipes:
.
How to prepare Basil
Whether you are using Sweet or Genoves Basil, or any of the other varieties.
Preparation of basil will be similar, with the video showing how to get the maximum flavour results.
How to start
Hopefully our guide showing how to grow basil indoors has helped.