About the Chef's Gardener
Professional kitchens use high quality herbs and vegetables not readily available on the open market.
Here at the Chef's Gardener we have access to plants, seeds & growing systems that will to take your cooking to the next level, but if you're looking for alternative recipes to add to your repertoire we also have a few suggestions.
Be Different!
Have a look through our different systems to grow great tasting herbs and vegetables at home with very little input!
Yes you could grow ingredients in your garden or allotment, but why not look to the future and try something a little different, get faster results and better yields?
Gachas Manchegas, Kapucijners or Crosne
If you're feeling that adventurous have a look at our 'blog' section and try growing something healthier and different like Gachas Manchegas, Kapucijners or Crosne.
For more information have a look at our step by step articles or the products in our shop.
Grow your own herbs and vegetables
If you want to add some great flavour to your recipes then nothing beats growing your own aromatics at home. Not only if you grow your own herbs and vegetables will it work out cheaper, but you will notice a real difference in taste.
On your site you will find 2 key sections.
1. How to grow your own herbs at home
Fresh herbs are really easy & quick to grow but there is real variety in the different types of flavour they have.
For example there are 5 different main basil varieties – ranging from Genovese (which is ideal for Italian meals) to Holy, Thai and even cinnamon types. Each with their own distinct flavour.
Similarly Thyme is a great ingredient and essential for many recipes. But again there are different types – for example Orange Thyme is great for Duck & desserts whereas French thyme is ideal for stews and meat dishes.
2. How to grow your own vegetables at home
In the same way as herbs it is easy to grow vegetables at home.
The 3 key ones I would recommend are:
2a. Grow Garlic at home
If you are used to using the garlic sold in most supermarkets then growing your own garlic at home will be a real treat. There are 2 main types of garlic – hard and soft garlic.
Most shops will sell soft garlic – whereas most top chefs will use hard garlic (because of the more intense flavour)
But in a similar way to grow your own herbs at home they also have their own unique flavour, best suited for specific recipes.
For example Red Duke Garlic is ideal for recipes where you need an intense, hot and spicy flavour.
On the other hand Albigensian garlic is great for vegetable and fish dish recipes.
2b, Grow tomatoes at home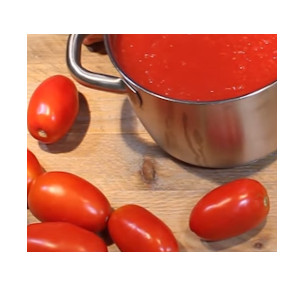 Tomatoes are great to grow at home – but the top 2 ones to grow would be either Roma or San Marzano tomatoes.
However they do require a slighly different growing system then if you want to grow your own herbs at home – because they tend to be larger.
The key is to have a look at the different types of tomatoes varieties and then select the best growing system for each type – in most cases that will be a combination of hydroponic & growing lights.
2c. Grow peppers at home
Peppers are so much fun to grow at home. There are an endless variety of peppers, each with their own flavour and level of 'hotness'.
If you want to grow your own herbs at home then in you can also grow some peppers at the same place. Or for other peppers you will need to use a similar growing system to the tomatoes above.
The difference is based on the height of the peppers (how tall the plants are), as well as the temperature requirements.
Similarly to the information on how to grow tomatoes at home, simply have a look at the pepper types you would like and then follow the info on the different growing systems.
But please don't underestimate just how important the difference in the flavours and best recipes are.
For example
Scotch Bonnet Peppers are great for Carribean recipes (and pepper sauce)
Thai chili peppers are great for southeast Asian recipes and curries
Poblano peppers are great for Southwestern and Mexican recipes.
Etc. etc.
For more information follow the links or visit our Facebook page for updates
How to start to grow your own herbs and vegetables
The easiest way is to have a look at:
And then select what you like to grow and follow the info on the best growing systems.