Best basil for cooking and growing at home
Basil is a key ingredient in many recipes.
However the best basil for cooking will depend on 3 items:
The variety of basil you use
Whether you use dried, fresh or homegrown basil
How easy it is to get your basil types.
The 8 Basil types we rated for growing at home are as follows:
Cinnamon Basil – score 5 (out of 5)
Lemon Basil – score 4.8
Holy Basil – score 4.7
Red Rubin Basil – score 4.5
Thai Basil – score 4.3
Genovese Basil – score 4.3
Minette Basil – score 3.7
The 8 Best Basil types
Please find below our comparison – there is more info further down the page on the rating system we used.
Cooking or growing at home?
The different basil types all have their own unique flavour, and the type you use will be linked to what you are cooking.
In our rating below we have included a score for the flavour of the basil types. But in addition we have also included how easy it is to get fresh types in shops.
Below you will find our comparison information & why we ranked them in this order:
For example Thai basil is one of our favourite ingredients but came quite low in our rating for growing at home.
The best Basil for cooking & growing at home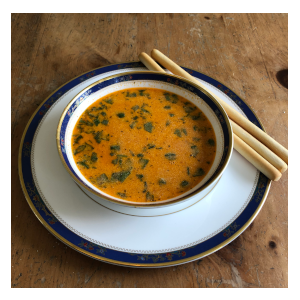 Below is our comparison of the different varieties of basil.
How we rated each type
We firmly believe that basil grown at home has some major advantages – not only in that it will have the best possible flavour but also that will allow you to grow varieties not always available in shops.
However, in our rating we have not only included the flavour they add, but also how difficult they are to grow.
Please note… The Basil seed or plant cost is only an estimate based on the latest time we checked, follow the links for today's cost.
The best basil for cooking & growing at home
Hopefully our guide will help you decide on what type of basil to grow at home.
For more information have a look at different basil types