Description
Key Facts
Ideal for Thai, Laos or Vietnamese Recipes
Easy to grow.
Takes about 2 to 3 months to grow
Seeds available online – Full details on Amazon
.
Background
Thai basil (not surprisingly) is a native basil from Thailand.
Standard basil flavour combined with a strong liquorice and anise flavour
Ideal for cooking Asian dishes. (Thai, Laos, Vietnamese, etc.)
Days from seed to harvest – about 40 to 50 (2 to 3 months)
About 30 cm high
Typical Recipes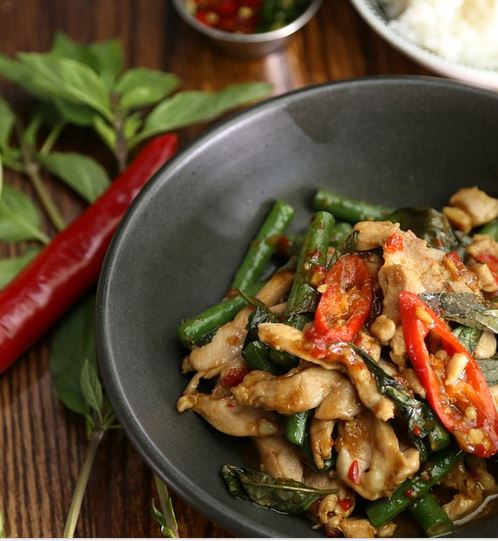 Thai Basil is the herb to grow if you like cooking Asian Dishes.
For example Thai, Laos or Vietnamese…
The reason it's so good for asian dishes is that it has the same flavours as standard basil but in addition has a strong liquorice and anise flavour that gives foods like curries and soups a unique aroma.
Typical recipes:
.
How to grow thai basil
This basil is ideal to grow indoors, because as a tropical plant it needs warm temperatures and is not frost resistant.
It loves warm very sunny conditions and hates cold draughts. If you want to grow basil in soil then:
Sow thinly into soil at a depth of 6mm
Will germinate in 12 to 40 days
Thin the seedlings or transplant leaving 38 cm between plants
.
Growing Basil using Hydroponics or Aquaponics
Basil is one of the most popular herbs to grow using hydroponics – as it will be ready to be harvested quicker than planted in soil.
But in addition it is ideal for aquaponics – especially because it loves nitrogen. In addition, whether using hydroponics or aquaponics you will be able to grow it all year around – providing you with fresh herhs when you want it.
Quick Summary
Thai Basil Anise/Liquorice flavour and is widely used in Thai cooking. It produces purple stems and Green leaves to a height of Approx 40 cm – It will also produce Purple/Pink flowers when mature.
Sow the seeds indoors from March – April 1/4 inch deep.
Sowing seeds in individual pots will minimise root damage.
Seed can also be sown outdoors in drills from May -June 6″ apart.
Basil can also be grown as a window ledge plant all year round.
Basil prefers a rich well drained soil in a sheltered yet warm position.
.
More information on Thai Basil seeds