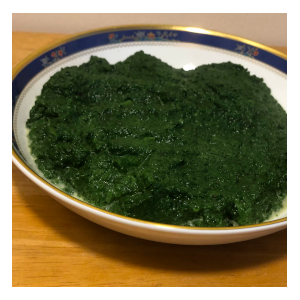 When growing up in Holland spinach a la creme (spinazie a la creme) was eaten as part of a meal (meat or fish, potatoes & veg) at least once a week.
OK in Holland you can simply buy the frozen ones in most supermarkets. But it's very easy to make at home and you can then freeze it for later use:
Either eat it either straight after cooking.
Or freeze it for later use.
One of the superfoods, full of vitamins and minerals.
You can either use regular spinach or use baby (young) spinach. In the video I used baby spinach simply because I had a lot available – it's very easy to grow at home with a great taste and perfect for healthy meals.
How to make Spinach a la creme
Ingredients:
500 g Fresh Spinach
50 ml Whipping Cream
5 g Butter
Salt & Pepper to taste
Equipment
Large saucepan
Small sauce pan
Colander or sieve
Food processor (optionally)
Instructions
Wash the spinach and remove any large stems.
Chop into smaller pieces if you want a smooth creamy consistency.
Put the spinach in the large saucepan and add water to cover it, adding a pinch of salt.
Bring to the boil and boil for 4 to 6 minutes until the spinach is cooked.
Pour into the colander (or sieve) and press with the back of a spoon to remove all water.
Optionally – if you want it very smooth – blend it in a food processor
At the same time heat in a small saucepan the whipping cream until it has halved in quantity.
Remove from the heat and add the spinach.
Stir and add the salt & pepper to taste and then add the butter.
Frozen spinach
You can either use the spinach a la creme straightaway – or for convenience you can freeze it.
Simply spoon the spinach into an ice block tray, let cool and then put in the freezer. Then simply heat how many blocks you would like in a microwave or on the stove.
And then use it with many difference dishes – like the one in the picture which has the spinach, as well as appelmoes (Dutch applesauce) sauteed potatoes and fishfingers
New – The plant based cookbook
Find out how to cook over 100 delicious vegan meals.
Such as sweet potato curry, Burrito Bowls, Roasted chickpea wrap, Protein Fudge bars…
Instantly downloaded full of cooking tricks, Nutritional Tips and step by step advice.
Makes vegan meals really easy to cook
With all the health benefits and lovely modern meals.
Full details on the Vegan Cookbook site
Spinach a la creme
Delicious and very healthy. Either fresh or frozen
Equipment
1 Large pan

1 small saucepan

1 Colander
Ingredients
500

g

Fresh Spinach

50

ml

Whipping Cream

5

g

Butter

Salt and Pepper
Instructions
Prepare the spinach

– Wash the spinach and remove any large stems.

– Chop into smaller pieces if you want a smooth creamy consistency.

Boil the spinach

– Put the spinach in the large saucepan and add water to cover it, adding a pinch of salt.

– Bring to the boil and then boil for 4 to 6 minutes until the spinach is cooked.

Dry and Smoothen it

– Pour into the colander (or sieve) and press with the back of a spoon to remove all water.

– Optionally then put it in a food processor and blend until very smooth

Prepare the whipping cream

At the same time heat in a small saucepan the whipping cream until it has halved in quantity.

Finalise the spinach a la creme

– Remove from the heat and add the spinach.

– Stir and add the salt & pepper to taste and then add the butter.

Either eat it straight away or freeze it
Video
Nutrition
Serving:
250
g
|
Calories:
141
kcal