Key Facts
.
Background
If you want to turn tomatoes & pepper into sauces, purees or pastes. Then a rotary food mill will make processing so much easier.
It's great for:
Preparing fresh purees & pastes
Sauces & soups
Baby food or easy to chew meal
The easiest way to see how they work is to have a look at some of the recipe videos on our site.
How does it work, why use a rotary food mill?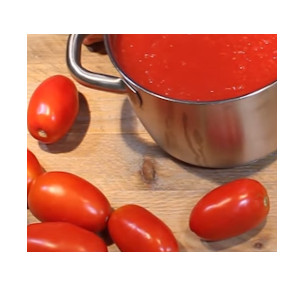 If you are processing food in the kitchen then for some meals you will need to turn it into a fine liquid.
For example an ingredient like Passata is very easy to make at home. With a much better taste then if you were to buy it in a shop (and a lot cheaper)
It is an essential ingredient in many italian recipes (such as pizzas, Bolognese sauce, lasagna, etc.)
However a key element in a homemade Passata recipe is that you need to use a rotary food mill to extract the liquid from the oven processed tomatoes.
Product Description
We like this rotary food mill because it is excellent for preparing baby food and homemade soups. It has a choice of two blades for fine of courser textures. Stainless steel and quick to clean.
Diameter is 21 cm
Excellent for preparing pastes, sauces, purees and baby food
Choice of two blades
Stainless steel
Easy to clean
More Details