Description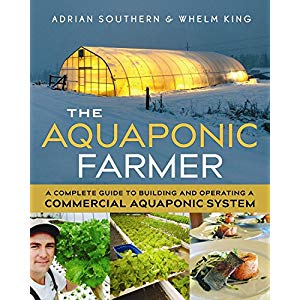 The ultimate Aquaponics guide.
Will show how to start a commercial business
But also great advice for Aquaponics at home
Full of detailed information.
This book has 13 Chapters with detailed information that is invaluable to anyone interested in Aquaponics.
Step by step advice
It will show you how to build a 120′ greenhouse system that can be operated by only person.
And then how to start your own profitable cold-water fish and vegetable business.
The aquaponic farmer book contains
Chapter 1: What Is Aquaponics?
The Aquaponic farmer has a detailed description as to what aquaponics is, how it works and the difference between backyard and Commercial Systems
Chapter 2: The RCA System
The key starting point to consider for your aquaponics system. From the layout to the items you will need
Chapter 3: Principles of System Design
For example items like Cold-Water vs Warm-Water Aquaponics
Chapter 4: Constructing the RCA System
How to prepare your site and install anything from water, lights, waste, etc.
Chapter 5: Tools of the Trade
The items you will need and elements to consider.
Chapter 6: Managing the Ecosystem
Ranging from water quality, ph levels to managing bacteria
Chapter 7: Cycling the System
How to fill your System with Water and how to start your fish
Chapter 8: Raising Fish
From selecting the Fish Species all the way to tempering
Chapter 9: Plant Production
How to select the right plants, plant and growing them.
Chapter 10: Plant Diseases and Pests
How to cope with pests and diseases, and what to do and how.
Chapter 11: Standard Operating Procedures and Protocols
How to keep logs and plan your monthly and seasonal tasks.
Chapter 12: Marketing and Sales
Key items to focus on and what to do
Chapter 13: Creating a Business Plan
Ranging from the financial items to daily operational issues
Very detailed book.
The Aquaponic Farmer book is very detailed and designed for taking your aquaponic system to a complete new level.
If you just want to start then have a look at the Aquaponics 4 You Guide (as it's a lot simpler)
On the other hand the aquaponic farmer book is probably the most detailed one you will find. 
More information