Description
The Miracle-Gro AeroGarden (shown right) is a great way to start in hydroponics.
Very easy to use:
Grow 3 plants

at a time, up to 10″ tall.

C

ontrol panel tells you when to add water,

Reminds you when to add plant food (included),

Automatically turns lights on and off for your hydroponics growing system.
Available from Amazon the starter hydroponic kit will let you grow plants in water, not soil.
So you can grow fresh herbs & vegetables all year round in this indoor herb garden. Always fresh, always local, always in season..
How does the starter hydroponic kit work?
Hydroponics is a way of growing plants in water and air without having to use soil.
The right hydroponics kit will create the optimal environment for natural, rapid plant growth.
Plants Grow Naturally in Water, 5X Faster Than Soil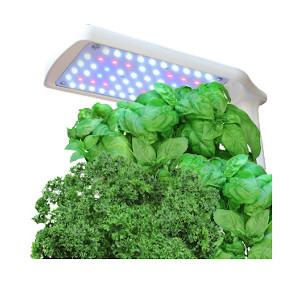 Save yourself the hassle and mess of growing indoors with soil. You'll use less water and your plants will grow faster, getting everything they need from the water and plant food in your AeroGarden.
Ultra-thin Grow Light Hood
Plants grow bigger and generate bountiful harvests because of the full spectrum LED grow lights. Our lighting systems are developed for maximum energy efficiency and cost just pennies a day to operate.
Super Simple Controls
A big advantage is that it is so easy to use. The Sprout LED is a complete indoor gardening system with Grow Lights that turn on and off automatically, and reminders that tell you when to add water and the patented Miracle-Gro plant food.
The unit contains
1 x Includes the AeroGarden Sprout Plus and a 3-Pod Gourmet Herbs Seed Pod Kit that contains: Genovese Basil, Curly Parsley, and Dill, as well as patented, specially formulated Liquid Nutrients.
Our Tip…
This unit is great for starting in hydroponics. Yes, it does contain seeds but if you are really into cooking do have a look at some of the herbs on our site as they might help you get better tasting results.
More Details on the starter hydroponic kit
For a full detailed description (as well as a range of hydroponic kits) visit Amazon