Description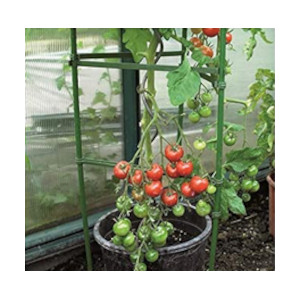 Key Facts
Ideal for growing tomatoes or peppers indoors
Adjustable – to fit in with the size of your plants.
More details / How to order Available from Amazon
.
Freestanding Tomato support
This support is ideal for growing tomatoes or peppers indoors.
Great for pots or hydroponic systems
Adjustable – to fit in with the size of your plants.
A freestand support is important indoors because you will often not have enough soil to anchor a support. Especially when using hydroponics or pots a freestanding one is a lot easier to use.
Key benefits
This freestanding tomato support will be very easy to assemble. And it will take only a very short time to set up a tomato grid on new plants or established plants.


Made of durable steel, these piles are reliable and covered with a heavy-duty plastic green coating. Includes an attachable arm to complete the tomato seeder.

It is specially designed to help your tomatos & peppers grow with vertical support. Which is better for plant circulation, and the natural ripening of the fruit.

And you will be able to move the supports as the plants grow. This plaid tomato or vegetable fence can continue to grow healthily as the arm is placed and moved. Aas they are easily attached to the stake.
More information on the Freestanding Tomato support