Description
Key Facts
Ideal for growing indoor tomatoes & peppers.
Provides ideal light & temperature for your plants
Because it's suspended very easy to use.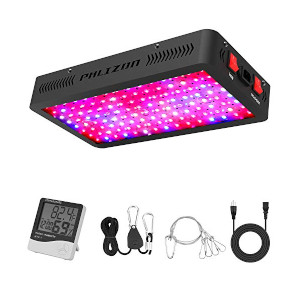 Background
The very easy to use 600Wgrowth light (shown right) is ideal for growing indoor vegetables & herbs all year round.
For example if you:
A key advantage is that the extra light & heat will help you produce fantastic tasting ingredients – that will make a real difference to your meals.
Please note this lamp is available in a variety of sizes. And if you want to grow larger quantities then also have a look at the 1200W indoor grow light on Amazon.
But if you want to grow a few speciality ingredients it will be perfect for your needs.
Product Details:
NO REFLECTOR NO DANGER
Many others' grow lights are used led spotlight reflector to make the light look beautiful, but we don't use it because the led reflector is not heat-resistant. If a short circuit occurs,reflector at 80℃ is easy to melt and fire. we do not use the reflector, we will not surrender the safety because of beauty.
FULL SPECTRUM
We did loads of experimentation to be sure that this full spectrum design promotes plant growth. It includes universal Blue Red IR UV and white light provide everything plant desire in the natural sunlight. The expensive IR UV led promote plants to defense mechanisms, blue and red led is very important light for plant growth.
DOUBLE SWITCH
Veg and Bloom button have different function. Veg switch: It's blue and white led. For seeding or young vegetative growth,you'll use Veg switch only. Bloom switch: It's red and white led.for flowering/blooming,you'll use both Veg and Bloom together. Angle of LEDs: 90°and 120°
COMPARE TO HPS/MH
The 600W LED grow light can replace traditional 400 watt HPS/MH at the same time as consuming only 108 watts! More effective coverage area than any reflector series lights. perfect for a 2x2ft growing area at 24″ height. The difference of us is that we use double cooling fans. Can most extend the light life.
More information