Key Facts
Ideal for chicken and fish dishes..
Easy to grow
Takes about 2 to 3 months to grow
Background
Originally from the Mediterranean region.
Very subtle thyme and citrus flavour.
Ideal for chicken and fish recipes.
Days from seed to harvest – about 70 to 90 (2 to 3 months)
About 30 to 40 cm high
Example Lemon Thyme recipes
When you grow this type of thyme it will have yellow-green leaves that are lemon-scented, making it perfect for chicken and fish dishes.
Typical recipes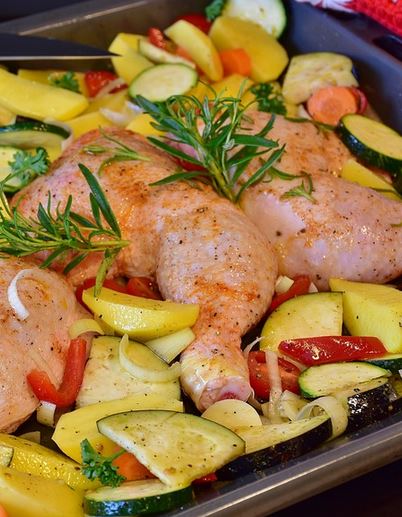 How to grow lemon thyme from seed
The plants are ideal for lovers of food
Thyme tends to be best suited to well drained soil and full sun.
Which is why it's ideal for growing either using soil or hydroponics on a balacony (if it's sunny) or using a kitchen hydroponic or aquaponic kit with back up lighting.
If using soil
Sow the seeds thinly into moist warm soil
Cover slighly – will germinate 7 to 21 days
Thin to 30 cm between plants
Using Hydronics or Aquaponics
Thyme is ideal for hydroponics or aquaponics
Will take about 5 to 7 weeks before harvesting
You can speed this up by planting cutting
More details for typical seeds
BLOOM TIME: Mid Summer . . . HARVEST: 85 Days

HARDINESS ZONE: 3 – 10 . . . COLOR: Light Purple Flowers / Evergreen Leaves

PLANT HEIGHT: 6 – 12″ . . . PLANT SPACING: 18 – 24″

LIGHT REQUIREMENTS: Sun . . . SOIL / WATER: Average – Dry

Lemon Thyme has evergreen lemon scented & flavored foliage, and the whole plant can be used! It is a popular seasoning with an endless number of uses. The plants attract bees, butterflies, and birds.
.
The seeds are usually supplied in a resealable plastic zip lock bag with a label featuring a picture of the flower, planting instructions, and plant specifications such as height, spacing, and light requirements for easy planting. If stored properly, seeds can last for years!
All seed packets contain 100 percent true named seeds – there are no fillers or other weeds or seeds mixed in. Most have been harvested by hand and all test at an exceptionally high germination rate. Combined free shipping applies to an unlimited number of seed packets paid for together at checkout within the required payment time of 7 days after last purchase has been made.International buyers please check with your local customs office regarding regulations and allowances on plant seeds.
More information