Rosemary is a key ingredient in many Mediterranean recipes.
It is very easy to grow, but there is a difference in flavour between the different rosemary varieties.
Tuscan Blue Rosemary – The chef's favourite, ideal for Mediterranean recipes.
More coming soon….
Follow the links below for details, or read on for growing and cooking advice:
Rosemary Varieties
The chef's favourite, ideal for Mediterranean recipes.
How to grow rosemary indoors
If you want grow this plant it can be both easy & hard.
Growing the easy way..
It is ideally suited for planting outside, in either a vegetable & herb garden, or in a pot on a balcony or terrace.
It will grow in poor well drained soil in a sunny position.
Sow thinly into soil at a depth of 6mm
Will germinate in 12 to 40 days
Thin the seedlings or transplant leaving 38 cm between plants
.
Growing it the hard way..
If you use the method above (for example in a pot on a balcony or terrace) it's quite easy.
You can also grow it using hydroponics or aquaponics. But it can be quite difficult – there is a real danger of root rot.
Grow seeds as above (or use a tray)
Transplant to your hydroponic or aquaponic tank
Make sure it's very sunny
Carefully monitor the root system
.
Different varieties & flavour
The different types have different flavour – the key is to select a variety that will suit you.
It is claimed that Tuscan Blue is the chef's favourite, but the only research we've found
(by AHDB Horticulture) analysed the following types:
Sudbury Blue & Severn Sea – Traditional flavour
Haifa & Primley Blue – Rosemary & Cucumber
Lady in White & Roseus – a bit 'hoppy'
.
Why not grow a few different varieties and test for yourself ?
How to use Rosemary
The leaves are strongly flavoured and is ideal for use with Mediterranean recipes as well as barbecued foods.
Preparing it for use is very quick & simple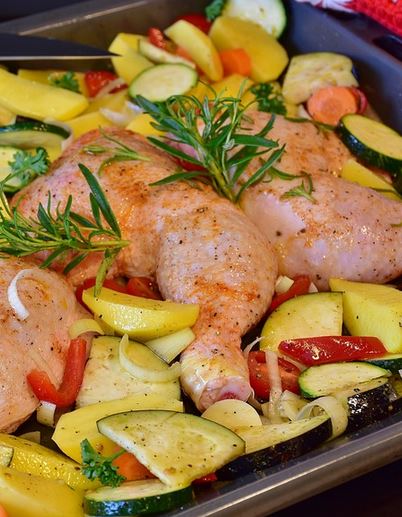 Typical recipes
.
.
How to start
Hopefully our guide showing how to grow rosemary indoors has helped.