Fresh herbs are key to the flavour and taste of recipes and meals.
Most are very easy & fast to grow with the seeds available from a number of places but our 4 most popular places to buy herb seeds are:
USA & Canada – West coast seeds
Worldwide – ClickandGrow
Amazon (See below)
More details on why we especially like these are described below.
Where to buy Herb seeds
To find out where to buy herb seeds follow the links below:
1. Live in the USA or Canada? – West Coast Seeds
Founded in Vancouver (with seeds available all over North America) they focus on the principles of organic growing and sustainable agriculture.
Lovely large range of organic herb seeds.
Quick & Fast delivery.
All the popular herbs as well as some very unusual herb varieties.
For more details visit West coast seeds
Please note their products are not available outside of North America.
.
2. Live in the UK?
The family owned business J Parker's is a lovely source of herbs.
With fast delivery and great prices.
Not only do they have the full range of herbs but also specialised ones like East Indian Lemon Grass.
Easiest way is to have a look at their website
3. Worldwide – ClickandGrow
This is a very unusual source of herbs with very fast results.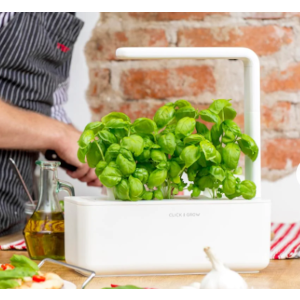 Their indoor garden works just like a capsule coffee machine.
But instead of coffee pods, use biodegradable plant pods.
More than 75 + different plant varieties.
Automated watering, light and nutrients controlled by App
Please note that they do have over 75 different plant varieties – with many different herb types.
4. Amazon
Amazon are a great source of herb seeds. Below we've tried to find the direct link to available seeds by herb type.
Simply select your ideal herb and follow the link for prices & to order.
Herbs A-Z
Where to buy herb seeds by herb type :
Basil
Genovese Basil

Ideal for Italian, French or Greek recipes.

Holy basil

Ideal to grow if you like cooking spicy Thai dishes.

Lemon Basil

Ideal for South Asian or North East African Dishes.

Minette Basil

Often used in pizzas but great for pasta or salads

Red Rubin Basil

Strong flavour ideal for salads and cocktails

Thai Basil

Ideal for Thai, Laos or Vietnamese Recipes.

Cinnamon basil

Ideal for Mexican or South American recipes.

Lettuce leaf basil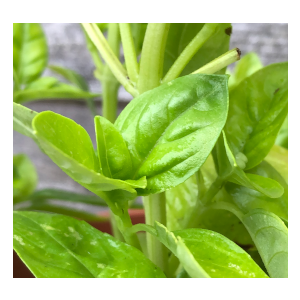 Chives
Garlic Chives Seeds

Ideal in Japanese, Chinese and Korean recipes.

Plain Chives Seeds

Ideal for use in fish, potatoes, soups, and other dishes
Coriander / Cilantro
Root Coriander

Ideal for recipes like Thai soups, curries, etc.

Seed coriander

Ideal for recipes like Indian curries, German Sausages, etc.

Leaf Coriander

Ideal for recipes like Chinese stir-fry, Mexican Salsa, etc.
Lemongrass
Mint
Apple Mint

Strong flavour great for tea or adding to salads.

Peppermint seeds

With a stronger flavour it's ideal for lamb recipes.

Spearmint seeds

Ideal for recipes like roast leg of lamb or pasta meals, etc.

Orange Mint

Ideal for salads and mexican recipes like Salsa.
Parsley
French parsley

The type you will find most often in supermarkets.

Hamburg parsley

Much thicker roots, used in soups, stews and casseroles

Italian parsley

The type of parsley most often used in restaurants.
Rosemary
Tuscan blue Rosemary

The chef's favourite, ideal for Mediterranean recipes.
Tarragon
French Tarragon

One of the most important herbs in French cooking.

Mexican Tarragon

Ideal for Mexican and Texan recipes.

Russian Tarragon

Easiest tarragon to grow but weaker in flavour.
Thyme
Orange thyme

Ideal for duck, dessert & carrot recipes.

Lemon Thyme

Ideal for chicken and fish dishes.

French Thyme

Ideal for stews, soups, meat and fish dishes.
More information on where to buy herb seeds