Parsley is the ideal herb to grow indoors, and you can use either Soil, Hydroponics or Aquaponics.
And is one of the most versatile ingredients you can grow.
There are 3 main types:
French parsley – The type you will find most often in supermarkets.
Hamburg parsley – Much thicker roots, used in soups, stews and casseroles
Italian parsley – The type of parsley most often used in restaurants
The Top 3 Parsley Varieties
Follow the links below for details, or read on for growing and cooking advice:
The type you will find most often in supermarkets
Much thicker roots, used in soups, stews and casseroles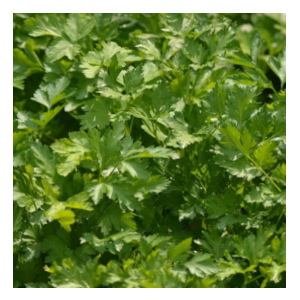 The type of parsley most often used in restaurants
In this article we will cover:
The 3 main types
How to use them
How to grow it indoors
.
Taking them in turn:
The different parsley varieties
If you want to grow parsley a key element will be which type you want to grow – as different types taste differently and you will use them for different recipes and dishes.
There tend to be 3 main types used :
French or Curly Leaved
Italian or Plain Leaved
Hamburg or Root
.
Taking each one in turn:
French or Curly Leaved Parsley (Shown Right)
This is the one most often used in places like the UK & the USA, and the one you will find most often in major supermarkets.
Curley leaved is often used as a garnish for dishes, as it looks the most interesting of the different varieties. In addition (depending on type and variety) it can add a lovely fresh flavour to your dish – although some varieties might be bitter instead.
The problem with curly leaved when using it for cooking is that it's difficult to wash, and might be difficult to chop when used as an ingredient.
.
Italian or Plain Leaved parsely
If you eat in a restaurant this is the type most likely to be used, because it's quick and easy to 'wash & chop' and has a lovely flavour.
An excellent flavour with plain foliage Italian or the plain leaved one can also be used as a garnish for fish and meat dishes, and salads.
Italian or plain leave is used frequently as a garnish on potato dishes (boiled or mashed potatoes), on rice dishes (risotto or pilaf), on fish, fried chicken, lamb, goose, and steaks, as well in meat or vegetable stews (including shrimp creole, beef bourguignon, goulash, or chicken paprikash
Hamburg or Root parsley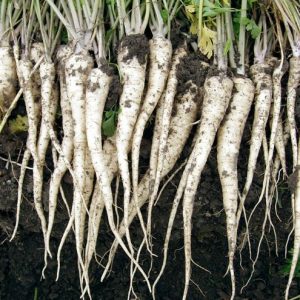 The third main type is the Hamburg or Root one.
The main difference with other 2 is that it's grown for it's much thicker roots- and used similarly as a parsnip. Although it tastes differently.
Very common in recipes in central and eastern European cuisine, often used in soups, stews and casseroles or simply eaten raw, as a snack
.
How & when to use parsley
As mentioned above it is widely used in Middle Eastern, European, Brazilian, and American cooking.
There are 4 main ways you can use it
Often used as a garnish
Or as an ingredient on it's own
As part of Bouques Garnie or Cheiro-Verde
Or on it's own
.
Using parsely as a garnish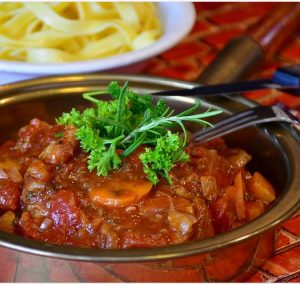 Due to the way it looks (and it's fresh taste) it is often used as a garnish in many UK & USA dishes.
Similarly in central Europe, eastern Europe, and southern Europe, as well as in western Asia, many dishes will be served with fresh green, chopped sprinkled on top.
Usually French or Curley Leaved one
.
Using parsely as an ingredient
Similarly (as above) it is used as an ingredient in many dishes – often added at a late stage or like celeriac used in soups.
For example it is the main ingredient in Italian salsa verde, which is a mixed condiment of parsley, capers, anchovies, garlic, and sometimes bread, soaked in vinegar. It is an Italian custom to serve it with bollito misto or fish. Gremolata, a mixture of parsley, garlic, and lemon zest, is a traditional accompaniment to the Italian veal stew, ossobuco alla milanese.
In some Middle Eastern salads it is a key ingredient, such as the Lebanese tabbouleh; it is also often mixed in with the chickpeas and/or fava beans while making falafel (that gives the inside of the falafel its green color).
Usually Italian or Flat Leaved
Hamburg or Root one for some (mainly East European) recipes
Or (not ideal) French or Curly Leaved one (mainly UK & USA)
.
As part of Bouques Garnie or Cheiro-Verde
Another way to use it (mainly the stems) is to blend it with other herbs.
For example Bouquet Garnie, like to one from Wholefood Direct sold on Amazon (shown right) is usually a bundle of herbs tied together with string and mainly used to prepare soups, stock and various stews.
The bouquet is boiled with the other ingredients, but is removed prior to consumption
It's a similar principle to the seasoning called Cheiro Verde used in Brazil. Depending on where you are in Brazil it can either be a blend of the herb, spring onions and corriander, or it is used with chives and used in Brazilian dished containing chicken, meat, rice, etc.
Deep Fried Parsley
The final option is to eat parsley on it's own.
All you do is wash, drain and dry some curly leaved parsley and seperate into little sprigs. Then put them into your fryer's wire basket and fry in very hot oil for a few seconds. Great snack or side dish.
You will need French or Curly Leaved Parsley
.
How to Grow Parsley
There are 3 ways to grow parsley:
In soil – all 3 types
Hydroponics – curly and flat leaved parsley
Aquaponics — curly and flat leaved parsley
.
If you want to grow parsley in soil
You can grow parsley indoors in pots any time of the year.
If you want to grow parsley outdoors or on the balcony you will need to sow it between early spring and the start of summer in well-drained soil in sun or partial shade.
Please note that parsley tends to be slow to germinate, and can take anything up to 6 weeks.
If you are using pots then sow the seeds thinly across a 25cm pot filled with soil, cover with a 1cm (½in) layer of compost and water. Leave in a cool spot to germinate and make sure the compost doesn't dry out.
Germination can take up to six weeks, then when they are large enough to handle, thin out seedlings, leaving about 2cm (¾in) between plants.
How to grow aquaponic or Hydroponics Parsley
Parsley is ideal for hyroponic or aquaponic growing.
A key advantage is that it will have a great yield and low nutrient requirement.
Starting aquaponic or hydroponic parsley
The most difficult element will be propagation from seed.
If you want to 'cheat' then an easy solution is to buy a ready made parsley plug – the problem (especially in places like the UK and USA) is that most plugs will be of the French or Curly Parsley variety.
Propogation from seed will take up to 6 weeks, and you can either use the option of growing parsley in pots (as above) or an easier option could be to use organic moistened propagation cubes like to ones available from Amazon (shown right)
Transplanting Parsley plants
Once your seeds have germinated and are showing leaves, then you can move them into your hydropnic or aquaponic system.
Once you've moved them it will take about 20 to 30 days before you start using the parsley ingredients.
Harvesting Parsley
You can start harvesting parsley when the stalks are at least 15 cm long. Start by harvesting the the outer stems first as this will encourage growth.
.
How to start
Hopefully our guide showing how to grow parsley indoors has helped.