Please find below our 5 most popular outdoor and indoor hydroponic kits.
Ranked in order:
Kitchen hydroponic kit
Starter hydroponic kit
The 4 pot hydroponic system
Automated hydroponic kit
DIY hydroponic kit
Follow the links to find out how they work & how to start.
In addition you will also find the plans & advice on how hydroponics works and why it's different from growing in soil.
Most popular hydroponic kits
Below are ranked our most popular aquaponics kits :
1. Kitchen hydroponic kit
We like the kitchen hydroponic kit a lot. It's small enough to fit in a kitchen but will still help you grow up to 6 plants at a time.
Available from Amazon it's the ideal automated hydroponic kit for beginners – as it will show you how it works and also helps you get great results.
In addition the special grow lights mean you can grow your herbs & vegetables all year around.
.
2. Starter Hydroponic Kit
The starter hydroponic kit (shown right) is great for learning how hydroponics works.
Available from Amazon it will let you grow 3 plants (your favourite specialist herbs?) and show you why hydroponics will help you get better results than growing them in soil.
A key advantage of the unit is the automated reminder of when to add water & nutrients.
And in addition the lights will also automatically switch on and off.
.
3. The 4 pot hydroponic kit
The 4 pot hydroponic kit is great for growing tomatoes & peppers indoors.
As opposed to the other hydroponic growing systems for beginners this one will let you grow taller plants.
Available from Amazon it's compact enough to fit just about anywhere, and is very easy to install and use.
However, please do note that you will also need to buy a specialist grow light (if you want to grow tomatoes and peppers in darker months)
.
4. Automated Hydroponic kit
If I had the space (A balcony, terrace, etc) then this is the one I would buy.
Available from Amazon it is one of the best larger hydroponic kits for beginners with a completely automated drain & return system.
The advantage is that it will let you grow larger quantities of tomatoes and peppers indoors – with the benefits of using the faster growing hydroponic system.
However, please note that (like the 4 pot system) you will also need to use grow lamps for best results.
.
5. DIY Hydroponic Kit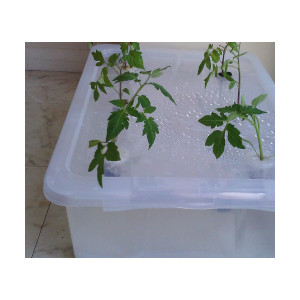 If you are new to hydroponics, and just want to try it. Then why not have a look at my DIY hydroponic kit.
Building your own diy hydroponic system at home is very easy and a lot of fun.
All you will need are 3 items:
The tank
An hydroponic air pump
Planting cups & sponges
Of course in addition you will also need plants to grow and the right type of plant food to add to the water. Yes the system I built was very basic but will show you how it works.
Best hydroponic kits for beginners
Follow the links below for more details.