Ginger Cayenne Pepper Paste
Also known as Chilli purée or Purée de piment
Ginger Cayenne Pepper Paste is a very easy way to add some spice to your recipes.
Doesn't take anytime to make and the resulting paste will last a long time.
How hot do you want it to be?
I used cayenne peppers in this recipe but you can also use other pepper types.
The only reason I used cayenne peppers because I find them easy to grow at home (indoors)
And because the flavour is used in so many different regional recipes. From the Far East, to North African, Portugese, Spanish, etc.
However cayenne peppers can be quite spicy – if you prefer a more mild option simply replace the peppers with one of the other types such as Anaheim, Hungarian Paprika, etc.
How to use ginger cayenne pepper paste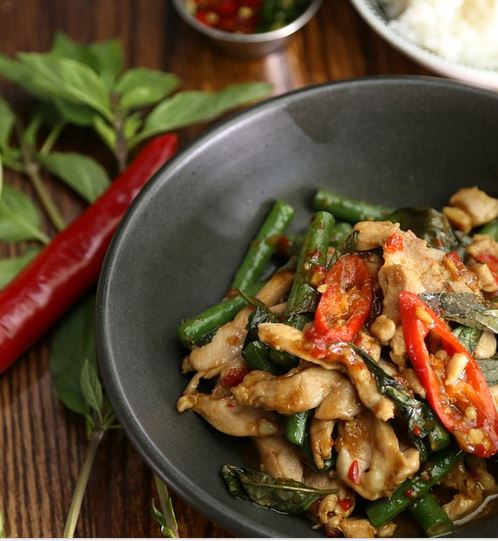 It is important to note that it can be quite hot – so you don't need to use much.
Because of the flavour it's ideal for use in either flavouring meat dishes or stir-fry.
If stored frozen – simply add a block to your recipe at the start of cooking and enjoy the flavour.
If chilled or ambient – simply take a small spoon and add to your recipe.
Please note if the jar is opened you need to use it within a reasonable time – which is why it makes sense to use small jars.
Ginger Cayenne Pepper Paste Recipe
This is a very easy way to turn fresh peppers into an ingredient.
It will taste much better than store bought spices – very quick to make and will add some real hot flavour to your recipes.
More details on how to use it below the recipe
Equipment
Chef's knife

Mixing bowl

Gloves

Food mill or Food Processor

Re-sealable jars (optional)
Ingredients
150

g

Cayenne Peppers

(Or alternative peppers)

150

g

Ginger

1

small

Onion

1

tbsp

Olive oil

1

tsp

Salt
Instructions
Cut the peppers length-ways and remove the seeds (Make sure you wear gloves)

Crush the flesh either using a mortar or food mill

Put all the ingredients (including salt) in the mixing bowl

Reduce it to a puree/paste using either the Food mill or Food Processor
3 Ways to Store the Paste
Option 1 – Ambient
This way it can be stored at ambient temperature, in a dark cupboard.

You will need small resealable glass jars, which need to be sterilised.

Preheat the oven to 160 to 180°C

Wash the jars and lids in hot soapy water. Rinse the jars but do not dry them

Put the jars on a baking tray and put in the oven for 10 minutes

At the same time soak the lids in boiling water for a few minutes. Take the jars from the oven and let cool on a kitchen towel.

Spoon the paste into the jars and cover with olive oil

Leave to stand for 2 months before using
Option 2 – Chilled in a Fridge
Get a clear jar and then fill it with the pepper paste using a spoon.

Level the paste at top of the jar with the spoon and cover with olive oil.

Put on the lid and leave in the fridge. Should last about 3 weeks.
Option 3 – Frozen (My preferred option)
Using a spoon fill an ice cube tray.

Put in the freezer and when frozen take out and

Put the pepper paste ice cubes in freezer bags.
Nutrition