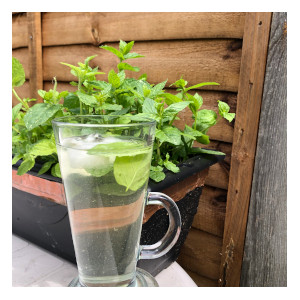 The advantage of fresh mint tea is that it tastes delicious, is very easy to make (and a great way to use mint leaves)
In addition there many different varieties of mint and each will make it's own unique flavoured tea.
For example there is:
Apple Mint
Spearmint
Peppermint
Orange Mint
How to make fresh mint tea
The recipe below will show you step by step how to make fresh mint tea.
Ingredients
1 handful fresh mint leaves
240ml boiling water
1 teaspoon Rosemary Honey (Optional)
Equipment
Kettle
Cafetiere or Tea Pot
Strainer (optional)
Instructions
If you want to make pure mint tea then:
Remove the Mint Leaves from the plant
Roughen the leaves a bit – but clapping or gently rubbing them in your hands
Put leaves in the bottom of the cafetiere
Leave to flavour for 3 – 5 minutes
Gently push the cafetiere down and pour into tea cup or mug
To make mint tea with rosemary & honey
Or to sweeten the mint tea add 1 spoon for rosemary & honey to your tea cup or mug (or to your preferred flavour)
Fresh Mint Tea
Quick and easy to make with lots of different options
Ingredients
15

Leaves

Fresh Mint

About 1 handful

240

ml

Boiling Water

1

tsp

Rosemary Honey (Optional)
Instructions
Remove Mint Leaves from Plant

Contents in Cafetiere

– Roughen mint leaves and put in Cafetiere

– Add Boiling Water

– Leave for about 5 minutes

Push Cafetiere down and pour in cup or mug

Optionally add Rosemary Honey
Video
A very easy way to grow Herbs & Veg in the Kitchen
Great for making sauces & pastes
6 jars ideal for storing ingredients
More information
Hopefully the guide to how to make fresh mint tea might inspire you to grow your own fresh mint at home.
To grow your own mint
It's not very difficult to grow your own at home – even indoors (in your kitchen, spare bedroom, garage, etc. All you will need are seeds, growing system and some growing lights. There is detailed description of the – indoor herb growing system