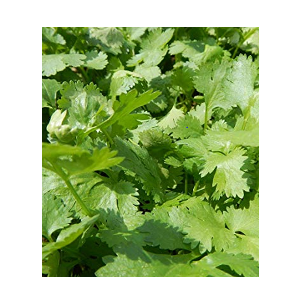 Fresh flavour all year around
Coriander (or called cilantro or chinese parsley) is one of the most popular herbs in the world.
It is very quick & easy to grow and used in many different recipes, ranging from Chinese stir-fry to Mexican Salsa, etc.
Frozen Coriander Puree
However if you grow coriander (or even buy fresh coriander in a shop) you will probably end up with lots left over.
The beauty is that it is very easy to make – and if you freeze it you will have the fresh flavour all year around (and save money at the same time)
How to make Coriander puree
You will need the following:
Ingredients:
Coriander – bunch and a half (about 200 to 250 gr)
Virgin olive oil – 1 cup (250 ml)
Equipment:
Chef's Knife
Cup or measuring jug
Food mill or Food Processor
Ice cube tray
Instructions:
Wash the Coriander
Chop the Coriander stems into smaller bits
Add into the food processor
Process into small items
Add olive oil
Process for 1 minute
Scoop into the ice cube tray and put into freezer
How to use Coriander puree
Coriander puree (Also known as Cilantro puree or paste) has a very unique flavour.
You either love it or hate it, which is very often linked to your genetic & cultural basics.
If you recipe requires Coriander then a rough calculation is:
1 Cup of Coriander = 1 Bunch of Coriander = 6 Ice Cubes of Coriander Puree
A key advantage of making frozen Coriander Puree cubes is that it is a lot easier when cooking.
For example most recipes that require 1 cup of Coriander leaves will be for 6 people i.e. if you are only cooking for 2 then you will only need 2 frozen Coriander Puree cubes,. etc.
Coriander puree is different from ground Coriander
A very important note to make is that ground Coriander is different and has a different taste than Coriander puree. Ground Coriander is made from Coriander seeds (not the leaves) and has a different flavour. Which is why it's often used in different types of recipes.
Coriander Puree
Easy way to store coriander in the freezer
Equipment
Chef's knife

Food processor

Ice cream tray
Ingredients
260

gr

Fresh Coriander

Also know as Cilantro

250

ml

Pure olive oil

1 cup
Instructions
Chop the Coriander stems into smaller bit

Add into the food processor

Scoop into the ice cube tray and put into freezer
Video
Nutrition
Serving:
33
g
|
Calories:
56
kcal
|
Fat:
6
g
Easy way to grow coriander at home
A very easy way to grow Herbs & Veg in the Kitchen
Great for making sauces & pastes
6 jars ideal for storing ingredients
To grow your own coriander
Used in many different recipes, ranging from Chinese stif-fry to Mexican Salsa, etc.
Days from seed to harvest – about 30 to 40 (1 to 2 months)
About 30 to 60 cm high
Example recipes
They are really easy to grow at home, and from planting seed to harvest will only take 1 to 2 months – even indoors (in your kitchen, spare bedroom, garage, etc. All you will need are seeds, growing system and some growing lights. There is detailed description of the – how to grow herbs indoors
The equipment needed
To make the frozen coriander puree is not very difficult, and you will probably already have most of the equipment.
The one item I find that made a real difference is the rotatory food mill – Available from Amazon