Where to buy tomato seeds
Fresh tomatoes are lovely on their own or as part of a recipe.
But there is a big different in flavour by type & variety. Most are very easy & fast to grow. Our 4 most popular places to buy tomato seeds are:
USA & Canada – West coast seeds
Worldwide – ClickandGrow
Amazon (See below)
More details on why we especially like these are described below.
Where to buy Tomato seeds
To find out where to buy tomato seeds follow the links below:
1. Live in the USA or Canada? – West Coast Seeds
Founded in Vancouver (with seeds available all over North America) they focus on the principles of organic growing and sustainable agriculture.
Please note their products are not available outside of North America.
.
2. Live in the UK?
The family owned business J Parker's is a lovely source of peppers.
With fast delivery and great prices.
Not only do they have the full range of herbs but also specialised ones like the Tomato Alicante.
Easiest way is to have a look at their website
3. Worldwide – ClickandGrow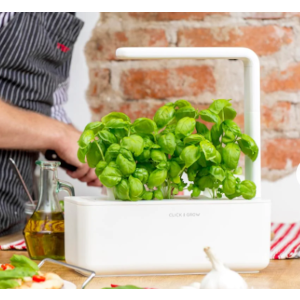 They have some lovely small tomatoes with a great flavour – and very fast growing results.
Their indoor garden works just like a capsule coffee machine.
Please note that they do have over 75 different plant varieties – with only a few tomato types.
4. Amazon
Amazon are a great source of tomato seeds. Below we've tried to find the direct link to available seeds by tomato type.
Simply select your ideal tomato and follow the link for prices & to order.
The varieties below can either be growing outside or indoor using our indoor Pepper & Tomato growing system.
Tomato Seeds
To find out where to buy tomato seeds follow the links below:
More information
The links above will show you where to buy tomato seeds, but why not have a look at our