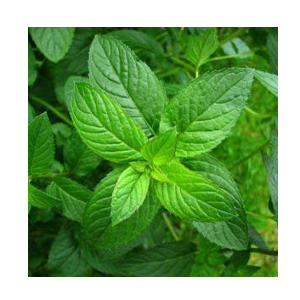 If you have to much mint then freezing it is very easy to do
It takes only a couple of minutes and the fresh taste will last at least 3 months.
2 ways to store mint
Mint is one of the most popular herbs and great for lots of recipes like roast leg of lamb or pasta meals, etc
However mint is also a very fast growing plant that will grow using a network of runners. Which is why you need to be very careful when planting it next to other plants, as there is a real danger it will take over. It also means that you will end up with surplus mint.
There are 2 ways to store surplus mint:
In a fridge – will last 1 to 2 weeks
Or a freezer – will last 3 months or longer
How to store mint in a fridge
One way of storing mint (especially useful if you buy fresh mint in a shop) is to store it in your fridge.
The key to keeping it fresh is to treat it like fresh cut flowers – just let it stand in a glass of water and it will stay fresh for up to 10 days. However do make sure you change the water every few days and also trim the leaves from the bottom – so that it's only the stem in the water.
How to freeze mint
However if your homegrown mint is getting to large (or you have bought to much) then there is a very easy way to store mint and make the taste last longer.
Ingredients
Minimum of 1 stalk of mint with 4 leaves
Some fresh water

Equipment
Ice cube tray
Freezer bags (optional)
Instructions
Wash the mint
Remove the mint leaves
Put 3 or 4 leaves in an ice cube tray
Add water
Freeze
Put in freezer bags (optional)
Why put in freezer bag ?
It is not essential to put in a freezer bag – but it's a lot easier to keep track of when you froze it (as you can write the date on the label) and also which type it is.
If you are growing mint then it can be very useful to grow a variety of different types
For example
Apple Mint – Strong flavour great for tea or adding to salads
Spearmint – Ideal for recipes like roast leg of lamb or pasta meals, etc
Peppermint – With a stronger flavour it's ideal for lamb recipes.
Orange Mint – Ideal for salads and mexican recipes like Salsa

The advantage is that (when frozen) you will different types of mint available for different meals and recipes.
How to Freeze Mint and use the Ice Cubes
Yes, some of the mint ice cubes are great to use in drinks like orange mint iced tea
But in most cases the easiest option is to thaw out the ice cubes just before using the mint. Just put the ice cube in a bowl and use a strainer to separate the mint.
How to freeze mint
The easy way to store surplus mint for 3 months or longer and still keep the fresh taste and colour.
Instructions
Wash the mint leaves in water

Put leaves in ice cube tray
Video
A very easy way to grow Herbs & Veg in the Kitchen
Great for making sauces & pastes
6 jars ideal for storing ingredients
Why grow your own Mint?
If you go into most supermarkets you will probably be able to find a bag of 'fresh' mint.
But there are 3 main advantages of growing your own mint:
It will be fresher with more taste (even the 'fresh' mint in supermarkets will be at least 1 day old)
You can grow mint varieties (like apple or orange mint) not available in most shops
You will save money
Growing mint is very easy to do at home – and now you know how to freeze mint you can save lots of use throughout the year. More details in our article on how to grow mint indoors