Growing herbs hydroponically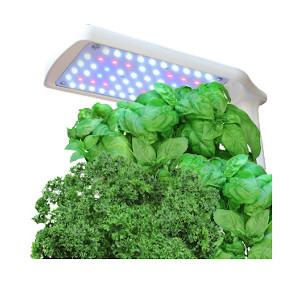 Herbs are key to any recipe, and growing herbs hydroponically is the ideal way to do it.
The key is to focus on 3 items:
Select the type of herb to grow
Decide on the size of hydroponic unit you will need
Take into consideration light & heat requirements
Taking them in turn
1. Select the type of herb to grow.
Below you will find links to the most popular herbs used in the UK (According to the Fresh Produce Journal).
Select the ones that appeal and fit in with your most often used recipes.
Which type of basil to use and example recipes
2. The size of unit for growing herbs hydroponically
Hydroponic units come in many different sizes.
Our hydroponics systems page also has details of the large sizes – which in addition to growing herbs hydroponically will also let you grow tomatoes and peppers.
But the units below are small enough to fit in most kitchens – and for a bit of fun why not have a look at the aquaponic system?
3. Heat & Light for growing herbs hydroponically
Most herbs are very easy to grow at home.
But the right amount of heat & light for growing herbs hydroponically can make a real difference, and help you get much faster results.
The advantage of using a specialised grow light is you will be able to provide exactly the right type of light.
Most houses (kitchen, etc) tend to be warm, which will be great for your plants.
But (especially in autumn and winter) you will need to provide them with extra light.
In addition to special growing lamps the hydoponic units above are also automated, so it makes growing herbs a lot easier.