Where to buy vegetable seeds
Fresh vegetables make a real difference to the flavour and taste of recipes and growing your own can often save money.
Vegetable seeds available from a number of places but our 4 most popular places to buy herb seeds are:
USA & Canada – West coast seeds
Worldwide – ClickandGrow
UK – Amazon (See below)
More details on why we especially like these are described below.
Please note – for some speciality seeds (like kapucijners) have a look at the Amazon links lower down the page
Where to buy Vegetable seeds
To find out where to buy vegetable seeds follow the links below:
1. Live in the USA or Canada? – West Coast Seeds
Founded in Vancouver (with seeds available all over North America) they focus on the principles of organic growing and sustainable agriculture.
Lovely large range of organic vegetable seeds.
Quick & Fast delivery.
All the popular vegetables as well as some very unusual varieties.
For more details visit West coast seeds
Please note their products are not available outside of North America.
.
2. Live in the UK?
The family owned business J Parker's is a lovely source of peppers.
With fast delivery and great prices.
Not only do they have the full range of vegetables both as seed as well as plants.
Easiest way is to have a look at their website
3. Worldwide – ClickandGrow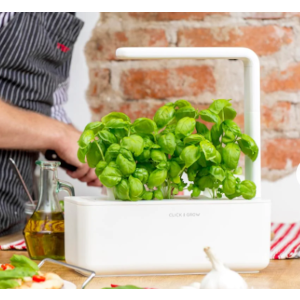 This is a very unusual source of vegetables with very fast results.
Their indoor garden works just like a capsule coffee machine.
But instead of coffee pods, use biodegradable plant pods.
More than 75 + different plant varieties.
Automated watering, light and nutrients controlled by App
Please note that they do have over 75 different plant varieties – with we especially like the lettuce types.
4. Amazon
Amazon are a great source of vegetable seeds. Below we've tried to find the direct link to available seeds by vegetable type.
The varieties below can either be growing outside or indoor using our Indoor & Balcony growing system.
Vegetable Seeds
To find out where to buy vegetable seeds follow the links below:
Kale & Spinach

Curly Kale

Packed full of vitamins, minerals and anti-oxidants

Spinach

Full of iron and antioxidants
Lettuce

Celtuce lettuce

Ideal for Asian / Chinese recipes.

Leaf Lettuce
Romaine lettuce

Used mainly for salads and sandwiches
Peas & Beans

Crosne Tubers

Easy to grow, disgusting looking & tastes fantastic

Grass Pea Seeds

Taste fantastic in Gachas Manchegas or Maltagliati recipes

Blue pea seeds (blauwschokker)

Also known as Kapucijners, great taste and easy to grow.
More information
The links above will show you where to buy vegetable seeds, but why not have a look at our