What is a paleo diet ?
Great for any allotment a peleo vegetable garden can be great fun (very easy to plan) and a great talking point !!
A paleolithic diet is simply a diet based on what our ancient ancestors might have eaten before organised farming – it's very much a 'hunter harvester' diet based on naturally occurring foods.
Strangely enough the focus on meat & protein makes it sound very similar to Atkins but for any paleo vegetable garden there are some very clear do's and don'ts.
Do eat – more 'naturally reared' protein and meat, lots of vegetables and fruits
Don't eat – Grains (like wheat), Legumes (like chickpeas, lentils, peas..) and Starchy tubers like potatoes and sweet potatoes
.
A paleo vegetable garden.
The Benefits ?
Difficult to quantify and very controversial – but the argument is that the human metabolism has not yet evolved to cope with 'processed' foods and that going back to a natural diet is better suited to humans.
However a natural organic paleo vegetable garden has automatic appeal to most allotment and vegetable gardeners
– and in addition there are claims a paleo diet boost energy, helps you feel great and boosts your health.
.
What to grow ?
The advantage is that the 'core' items in a paleo diet (excluding meat & protein) is very often already part of most vegetable gardens:
The types of plants in a paleo vegetable garden come into 4 main groups :
1. Leafy Greens
Popular leafy greens (like Spinach, Kale, Brocolli, Lettuce etc.) are ideal for a paleo vegetable garden.
Purple Sprouting Broccoli tastes fantastic and looks great
Cauliflower,.
Lettuce will grow particularly well, but do make sure they have plenty of light. Lettuce seeds like Tom Thumb (shown right) are ideal.
Kale – (especially curly kale) is also a great one to try.
Green Cabbage is always popular but bear in mind they take a lot of space.
Spinach is a great one and easy to grow.
.
2. Vining Plants
Some of the most popular plants (like cucumbers, tomatoes and peppers) are ideal as part of a paleo diet (and garden).
But you will need to make sure they have plenty of support when growing. Also bear in mind they often prefer warmer temperatures (i.e. ideal for summer if outdoors or a greenhouse if indoors).
Cucumbers can be a very satisfying plant to grow as it can grow very fast and produce heavily.
Tomatoes – are great for a paleo vegetable garden – the advantage is you don't need many plants to get a great yield. You can also grow all kinds of tomatoes, two of the easiest and most versatile ones being slicing tomatoes and cherry tomatoes.
Aubergine (eggplant) – taste great and look great.
Peppers, like tomatoes, prefer warm growing conditions. There are lots of different peppers – sweet, mild, hot or spicy, and they can all be used as part of a paleo diet plan.
.
3. Fruit
Virtually most fruits can be grown as part of a paleo vegetable garden, such as strawberries, blackberries, melons, etc. However the downside is that many require a lot of space.
The best one to grow are
Strawberries – just a few plants will yield a lot of fresh and great tasting strawberries. The variety we like best is F1 Sarian
Blackberries – very, very easy and taste great.
Melons – easy to grow but do require 3 to 4 months of warm sunshine (or a greenhouse)
Apples, Plums – yep you need a tree but if you have an orchard great as part of a paleo diet
.
4. Others..
And then of course there are all the 'other' key items ideal for paleo recipes, such as
Onions
Garlic
Courgette (zucchini),
Asparagus
Avocados
fresh herbs
mushrooms
…..
.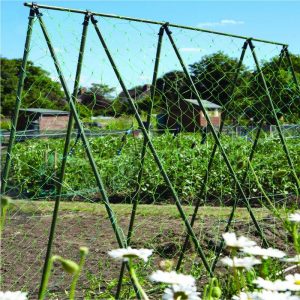 What not to grow ?
The good news is that most allotment of vegetable gardeners usually don't 'grow' the definite no items on any paleo diet plan such as Cereal grains, Dairy, Refined sugar, Processed foods, Salt and Refined vegetable oils.
However there are some items you might have to avoid (or grow on a different part) such as :
Legumes (such as peas or runner beans)
or Starchy tubers, like potatoes and sweet potatoes,
.
.