How to prepare curly kale
How to cook Boerenkool
(How to cook 'curly kale')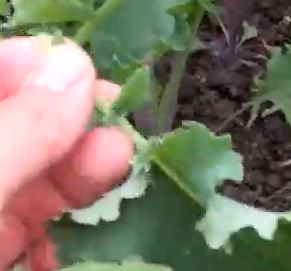 If you've grown your own
The first stage to making boerenkool (or any other dishes containing curly kale) is to harvest the right leaves.
Don't forget you will get the best cooking and food preparation results if you use them the same day you harvest them.
The good news is that you can use them throughout the winter months – especially if you stagger the sowing.
For example why not use the great 'purple' coloured Winterbor F1 hybrid variety for your 'autumn' crop (it also tends to be more whitefly resistant so you can sow it earlier) and then the F1 reflex type for winter as part of the boerenkool dish. (Available from suttons )
How to how to prepare curly kale (boerenkool)
The most popular method in Holland is to cook a very filling 'hearty' meal fit for a working farmer (hence the name boer = farmer in the title !)
However (because of it's health benefits) more and more people are simply using it steamed or blanched'. For example using at as an ingredient with stir fried with herbs, combined with sauteed potatoes or as part of a salad
To how to prepare curly kale / boerenkool you will need :
1 kg potatoes
600 g curly kale
25 g butter or margerine
some vinegar
pepper
Step 1
Wash, peel and chop the potatoes
Step 2
Put the chopped curly kale in a large pan and put the potatoes on top
Add 2 1/2 dl water and 1 table spoon salt
Bring to the boil and then reduce of 10 minutes
Step 3
Pour off the fluid and save
Mash the potatoes and curly kale until fine and add butter (or marg) and vinegar
Stir and re-add a bit of the fluid until everything to soft and 'creamy'
Step 4
Gently reheat whilst stirring and add salt and pepper to taste. Put on plates and add the cooked farmers sausage
The video below shows the most popular way of eating it in holland – simply called boerenkool met worst (sausage)
The advantage of curly kale is that you can use it in very many different foods – from salads to soups to hearty meals (like in the video). In addition it's a great crop to grow from seed
More information