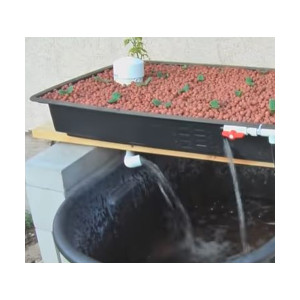 Key facts
Instantly downloaded diy aquaponics plan
Will show you how aquaponics works and why it's different to hydroponics,
How to build an aquaponic system at home using easy to follow instructions
Easy, detailed and will save you money
We like the aquaponics 4 you plan because not only will it show you how to build your own aquaponic system but also contains detailed advice on how to manage it day by day. Such as the best plants, fish, etc.
But in addition a key advantage of a homemade aquaponics system is that it's far cheaper than buying a ready made kit.
How the diy aquaponics plan works
Aquaponics is probably the fastest 'up and coming' way to grow Fruit & Vegetables.
Instantly downloaded the DIY Aquaponics Plan will show you 'step by step':
How Aquaponics works
How to build a system from scratch
Which fish & plants to grow and how
How to manage the tank & plants
Containing detailed manuals & videos it will show you how to get started and what to do.
The video below gives a quick introduction as to what's in the plan and how it works
Why is aquaponics so ideal for growing vegetables ?
Aquaponics is simply a way where you combine growing fruit & vegetables with growing fish.
It's ideal if you
Don't have much space
Would like to 'Harvest' vegetables all year round
Get better yields & crops
Use less water, without pesticides, at a lower costs but – grow more organic fruit & vegetables
An aquaponic system takes very little space and contains 3 key elements :
1. The fish tank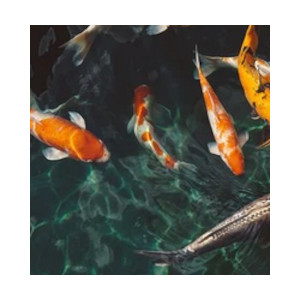 The core element to your aquaponics kit will be the fish tank. The manual will show you exactly how to make a fish tank to fit in with your objectives
Your fishes are the key to your system (because they provide the food for the plants) & a real 'step up' from hydroponics.
You can either simply 'keep them' for decoration or grow them to eat or sell (most popular)
For example some people will grow fish to eat like Tilapia, Carp, Perch and even Trout.
Whereas others keep them for decoration (or maybe a small 'commercial side line') and keep fish like Koi Carp or Goldfish
.
The diy aquaponics plan will show you how to make sure that the water has the right temperature, PH level, light as well as the necessary amount of oxygen to accommodate the fish in good conditions.
2. Water circulation system
Linked to this you will need to install a water pump and circulation system. Yes, you will need to provide the right environment for your fish to thrive – but you also need to get the water (with the nitrates) to flow up to the roots and then back down again.
3. The grow bed
And finally you will need to provide a grow bed (on top of the tank) for your plants, which lets the roots 'hang' into your fish tank below.
(and of course you then need to place your system where there is plenty of light)
If you look at our guide to best plants for aquaponics you will see you can grow a wide variety of plants to fit in with your own likes, space (and light)
It sounds a lot more difficult than it is, but the key is to start with a simple plan.
About the diy Aquaponics Plan
The Aquaponics 4 You™ manual is an intantly downloaded 'eBook' containing the 'step by step' DIY Aquaponics Plan and videos showing you how to make your own aquaponics system at home.
The beauty of this diy indoor aquaponics manual is that it's designed for the absolute beginner so you will know exactly what to do.
In addition the diy aquaponics plan will also show you how to build a larger system, if you want to take it to the next level.
More information
For more details, user reviews, how to order & how to start